International Junior and Teens English Summer School.
We strive to provide highest quality education, bridging your child's success with well formed infrastructure of knowledge and resources.
Summer School Residential Accommodation Heriot-Watt University, Edinburgh
Heriot-Watt University is considered one of the best campuses in Edinburgh with great facilities for education and activities state-of-the-art facilities. It is surrounded by greenery and yet close enough to the city centre. Edinburgh, the Scottish capital is full of attractions from a magnificent Edinburgh Castle, Royal Mile with cobbled streets, building of Scottish parliament to a park with landmark hill called Arthur's Seat.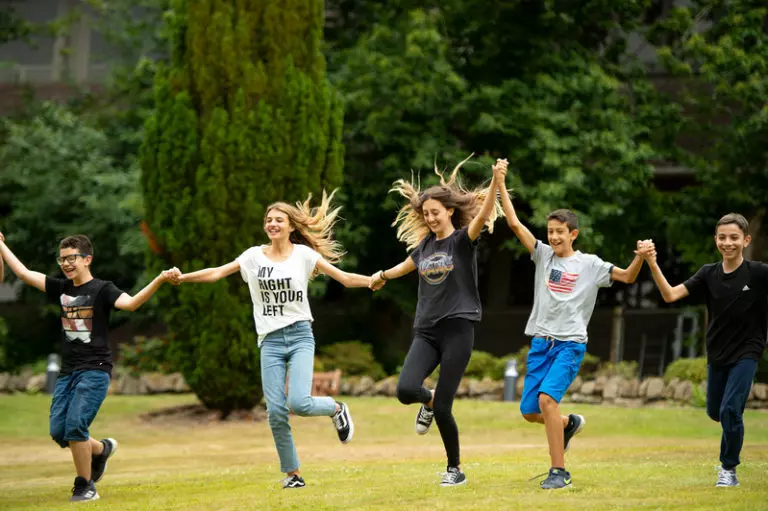 Heriot-Watt - International Summer school
Full Programme all inclusive
Happy International Students.
Qualitative English learning for junior and teens
Our international summer school strives to offer the best of teaching and cultural experience to all our international students. Our programmes are designed to break through the learning of the language combined with excellent social activities whereby students are totally immersed in it by practicing the language and making new friends. 
Learn English, Make International Friends, Have Fun
"The summer school is undoubtedly the best for its commitment and responsibility towards students."
"The teachers were very helpful and committed towards us and I met many international students."
Junior and Teens English Summer School Sample Programme
 

Morning

Afternoon

Evening

Day 1

Arrivals

Arrivals

Campus tour and ice-breaker activities

Day 2

Onsite Activities & Instagram Challenge

Placement Test and Lesson 1

Welcome Disco

Day 3

Public bus to Edinburgh with walking tour of Royal Mile and entrance to Edinburgh Castle

Shopping on Royal Mile

Onsite Activities

Day 4

Lesson 2

Lesson 3

Karaoke/Lip Sync Battle

Day 5

Onsite Activities

Lesson 4

Onsite Activities

Day 6

Onsite Activities

Lesson 5

International Evening

Day 7

Full day excursion to Glasgow with walking tour of city centre

Visit to Kelvingrove Gallery of Modern Art

Themed Disco

Day 8

Lesson 6

Public bus to Edinburgh with visit to National Museum of Scotland

Ceilidh

Day 9

Lesson 7

Public bus to Edinburgh for self-guided visit of Scottish Parliament and to climb Arthur's Seat

Calton Hill, tour of the Monuments

Dinner and late return to campus:

Day 10

Lesson 8

Public bus to Edinburgh with visit to St Giles' Cathedral

Talent Show

Day 11

Lesson 9

Onsite Activities

Onsite Activities

Day 12

Lesson 10

Public bus to Edinburgh. Visit to Writer's Museum, Museum of Childhood and Museum of the Mound

Onsite Activities

Day 13

Full day excursion to Stirling by coach

Entrance to Stirling Castle with walking tour of Stirling and visit to Loch Lomond

Farewell Disco

Day 14

Optional Excursion

Optional Excursion

Onsite Activities

Day 15

Departures

Departures

Departures

 

 

 

 
 Please note that the sample programme refers to the previous year programme, this year summer programme will be released 3 weeks before departure.  
Language Summer School for Junior and Teens
Pre-Enroll for a summer programme.
Please feel free to ask any information you may have, we will be happy to assist you with any enquiry.