School of English Norwich
English course in Norwich combines professional language tuition in a traditional English city that is compact yet offers various attractions to be seen. The course cover lessons focus on listening, speaking, reading and writing. The school offer also exam preparation for Cambridge ESOL and Academic English IELTS.
Our UKEDA associated Language School of English has been welcoming students for more than 20 years and since 2003 is accredited by the British Council. The school is in the centre of Norwich, a few minutes' walk from the main shopping area. Between lessons, students can relax in the student's common room and get to know their classmates and other students. All the teachers are committed to helping students improve their English and practical teaching methodologies are used to achieve this.
The school organizes a variety of activities and excursions. A welcome tour is offered to all students the first day of school during which they will be shown how to find the local bank, post office, bus stops etc. Excursions are organised mainly during the weekends, especially during spring and summertime, and social activities in the evening.
Timetable*
Morning classes Monday to Friday 09:00 am to 12:15 pm
Afternoon classes Monday to Friday 13:40 to 16:45
Included in this course:
Discounted Prices for Social and Cultural Programme (Summer)
Computer room access
Free Wifi
End of Course English Language Course Certificate



*Timetable may be subject to a slightly change prior starting the course
Excursions and after School Activities
The school organises a social programme with various activities and excursions, some free, some at extra cost. They are a great opportunity to socialise with classmates, practise the language and visit new places. Activities usually include quizzes, movie night, cultural evenings such as Pub night or music. Students can join excursions to local attractions, park or a museum, or longer day trips to other cities on weekends. Afterschool activities enhance the overall study experience of the students.
This option is great if you want to live in a family environment, possibly in a quieter residential area but with easy access to the school or attractions. This way you will experience a family life and get to know about the other culture and habits. Most hosts offer an option to stay with them on half board so you will return home for the dinner and share the meal with the host. It allows you to practice your speaking skills and socialize at the same time. The families enjoy welcoming students in their homes.
The residential accommodation is available in several locations and varies. It can be located minutes from the school or further. You might have your own en-suite room and shared kitchen and living/study area with other students. If you prefer more privacy you can opt for a studio apartment with private use of kitchen and bathroom. Some of the residences might have age restrictions in place.
Have a look at our other English language schools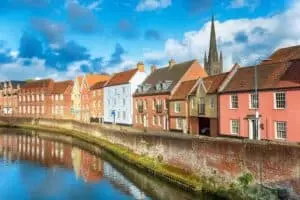 This makes Norwich a great location to stay if you decide to learn English in our school, we do offer language courses for adults, Junior Summer school and mini-stays for school groups…
Read More »
09:00 AM – 5.00 PM
Monday – Friday
Head office: + 44 (0) 20 3519 1247